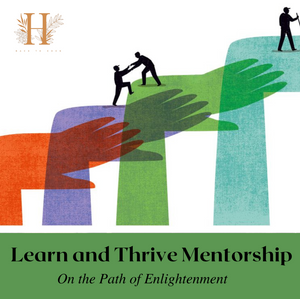 In this life we often find that we need assistance in talking through decisions/answers and coaching through goal setting and reaching accomplishments. Our mentorship services offer assistance through the process of setting and achieving your goals along with processing emotional blocks and barriers so they no longer control our lives.

Mentorship Types:
1. Spiritual/ Personal 
2. Business
3. Herbalism
Jessica Divine has many years of experience assisting clients in streamlining and reaching their goals via removing barriers and blocks to success that are often in the emotional body. Her years as a professional spiritual practitioner and counseling services give her mentorship and facilitation style a more intuitive and balanced approach.
Sessions offer detailed individually focused information and can be scheduled for short term or long term goals. We cover a myriad of topics relevant to your mentorship focus (business, spiritual growth, mindset reprogramming, and even herbalism).

Individuals often find coaching sessions useful for:

- Processing Perceived Negative Emotions and fears
- Career Planning, Changes and Starting Over
- Refocusing Intentions
- Wanting Change but Not Sure Where to Go Next
- Feeling Spiritually or Emotionally Imbalanced
- Desiring a New Way of Being/Thinking
- Increasing Self Esteem and Success/Power
- Increasing Sales and Success
- Learning to Live a More Centered Existence
- Finding More Joy and Happiness in Everyday Life
The herbalism mentorship includes the following subjects below:
(1) Basics of Plant Phytochemistry and Botany
(2) Herbal Actions (Medicinal Properties)
(3) Teas, Decoctions, Tinctures, Infusions, Salves, Balms, Capsules
(4) Difference between Herbalism: Western, Chinese, Ayurvedic, Homeopathic, Aromatherapy, etc…
(5) 25 Basic Herbs for every household
(6) How to Source Herbs from quality wholesalers
(7) How to forage and dry/preserve herbs
(8) Medicinal Use vs. Edible
(9) Intuitive Herbalism
(10) How to treat 10 common ailments (viral infections, diabetes, high blood pressure, constipation, anemia, eczema, etc…)
(11) Recommended books, videos, resources, and supporting guides
(12) 10 Recipes to start you off
(13) How to spiritually connect with nature and plant medicine
 
The herbalism mentorship includes a Herbal Starter Kit. You will receive 8-10 herbs for the (3 Session) choice, 15-17 for the (6 Session) choice, and 24-27 herbs for the (10 Session) choice.