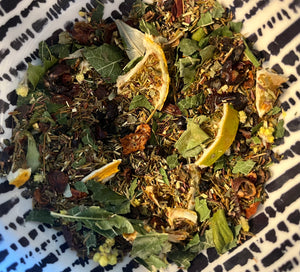 This a LIMITED TIME refreshing tea featuring organic foraged Mulberry Leaves, Rosehips, Moringa, Lemon Balm, Kaffir Lime Leaves, Life Everlasting, Devil Walking Stick Berries, Dried Lemons and Limes, and Green Rooibos.
This blend is high in antioxidants, vitamin C, other vitamins and minerals. Medicinal Benefits include:
Anti-inflammatory 
Anti-viral
Anti-cancer
Anti-diabetic
Who knew Herbal Limeade could be so delicious and medicinal?
This is a great health tonic to sip on hot, iced, sweetened, and unsweetened. 
This is great tea for the full family. From toddlers to the elders….everyone can and will enjoy this blend.
3.5 oz (25-30 cups of tea)